Requirements for taking the HiSET®
Before you can get started, determine if you are eligible to take the HiSET and review requirements, which may vary by state.
First Things First: Creating a myHiSET Account
What can you do with your myHiSET account?
Your myHiSET account allows you to view scores, find a test center, book and pay for a test (in some areas), view your booking confirmations, re-book or cancel a test (in some areas), print your score reports, and more.
Important Account Info
When you create your myHiSET account, the name you use must exactly match the name on the ID documents (excluding accents) that you will use on the day of your test. Make sure you sign up using you entire first name and not a nickname or initials.
HiSET® Requirements and myHiSET Sign-In by State or Jurisdiction
BEFORE YOU BOOK YOUR TEST: It's important that you read and understand the policies for the state or jurisdiction where you plan to take it.
Each state or jurisdiction has its own testing requirements and policies – including booking, fees, retesting rules, and age or residency rules. Find your state to view your requirements and to sign into or create your myHiSET account.
To login/create an account or see state requirements, select your state then click the link.
California
Colorado
Georgia
Hawaii
Illinois
Indiana
Iowa
Louisiana
Maine
Massachusetts
Michigan
Minnesota
Mississippi
Missouri
Montana
Nevada
New Hampshire
New Jersey
New Mexico
North Carolina
Ohio
Oklahoma
Pennsylvania
Tennessee
West Virginia
Wyoming
American Samoa
Marshall Islands
Northern Mariana Islands
Palau
If you don't see your state or jurisdiction listed above, it may not offer the HiSET exam yet.
Check with your high school equivalency office to see what your test options are.
Step 1 — Check Your Eligibility in Your Area

The first step to earning your high school equivalency is figuring out if you're eligible to take the HiSET® exam in your state or jurisdiction. Every state has its own rules about minimum age, residency, and completing an adult education course for eligibility.
Step 2 — Select a Test Center

Your test center is a place to take your exam, but the staff can also be a resource to help you if you have questions about the process, and they'll know your state or jurisdiction's policies. You can find a test center near you with our test center search.
Step 3 — Create a My HiSET Account

Setting up your myHiSET account will allow you to create new test bookings, check your account details and existing bookings, view scores, and print reports. You can set up the account yourself, or with the help of a HiSET Customer Service representative.
Step 4 — Review Fees, Payment and Refund Policies

How much it will cost you to take the HiSET depends on where you're taking the test. Payment and refund policies vary, too.
Step 5 — Request Disability Accommodations if Necessary

If you have a disability or health-related need and require testing accommodations, you must request your accommodations with PSI's Test Accommodations Team before booking a test. The approval process can take six weeks, so make sure to leave yourself enough time to submit all the necessary information before your test date.
Step 6 — Select a Test Date and Book Your Test

When you're ready, check available test dates online or call your local test center to book your test. In some areas, you can use your myHiSET account to find available dates and times. The HiSET is made up of five subtests. You can take them on different days, or take more than one on a single day. In most states you can book the subtests in any order.
Step 7 — Prepare for Test Day

Make sure you prepare for the test content and the test day itself. Use our preparation materials to familiarize yourself with the test content, question formats and other information about the test. Once you're prepared, make sure you know what to bring to the test center — including valid ID — and what to expect on the day of your test.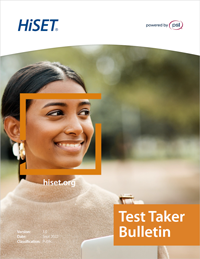 Everything test takers need to know about the HiSET.
For a complete overview of everything you need to know about the HiSET high school equivalency test and credential, download the official HiSET Test Taker Bulletin.