You're Ready to Take the HiSET®
Taking the HiSET is an exciting first step toward a brighter future. The days leading up the test can be filled with anticipation, but the information below will help you arrive at test day with confidence.
Let's get ready!
Contact Your Test Center

Different test centers have different test day policies. Some require you pay the test center administration fee on the day of the test. Some require you bring more than one kind of identification. Contacting your test center before test day will help you to plan and make sure you bring everything you need.

NOTE: Some test centers are requiring proof of vaccination or a negative COVID-19 test within a specific timeframe before testing, for entrance to the test center. Be sure to check with your local test center for a complete list of health and safety procedures required for admission to the test center.

Testing at home? Learn more here.
See State Requirements

Check your state requirements for any state-specific ID or residency requirements or other test day policies.
Know the Policies, Plan Ahead

You can't bring electronic devices, including cell phones, into the test room. Most test centers provide you with a locker to secure your possessions, but it's not guaranteed. You can't bring any food or drink into the test room unless you have an approved health accommodation.
Bring These Things On Test Day

Make sure you have these things on test day:

– Valid, acceptable ID

– Payment for the test center administration fee (if applicable)

– Proof of completion of state-required pretests or documents (if applicable)

You may want to bring a copy of your confirmation email, too, but it's not required.
DON'T Bring These Things On Test Day

If it's not listed above, don't bring it! This includes cell phones, smartphones, calculators, pens, pencils and papers. Your test center will provide calculators and any other materials you need to take the test.
Know What to Expect When You Arrive

The HiSET program takes test security seriously. Once you arrive at your test center, the staff will:

– Verify your identity

– Give you a locker key (if available) so you can store your belongings

– Ask you to follow test center rules of conduct

Be sure to understand the rules before your test day and understand they apply to all test takers. A secure test environment ensures you can do your best and earn the credit for your hard work.
HiSET Exam Identification Requirements
With few exceptions, ID documents must meet all of the following requirements. Each ID document must:
– Be an original document; photocopied documents are not acceptable
– Show your full name
– Meet ID requirements for the state or jurisdiction in which you are testing
Additionally, the name on your ID must match exactly the name you used when you created your myHiSET account.
NOTE: Some ID requirements vary by state so be sure to check your state requirements
Primary ID Requirements
The following ID documents are acceptable for admission to a test center:
– Passport
– Government-issued driver's license or temporary license
– State ID card (including those issued by the motor vehicle agencies)
– National ID card
– Military ID card
Supplemental ID Documents
You should always bring a supplemental ID in case the test center administrator questions the primary ID document you provide. The following ID documents are generally acceptable as supplemental ID:
– Government-issued ID card (including, but not limited to, those listed under Primary ID Documents earlier in this section)
– Student ID card
NOTE: Supplemental ID documents can't be used to resolve last name discrepancies.
Unacceptable ID Documents
The following documents are not acceptable as primary or supplemental ID under any circumstances:
– Any document that is photocopied
– International driver's license
– Draft classification card
– International student ID
– Credit/debit card of any kind
– Notary-prepared letter or document
– Birth certificate
– Social Security card
Driver's License Renewals
If your driver's license has expired but you present it along with your original Department of Public Safety renewal certificate, these two documents together are acceptable if the names on both documents match exactly. If you are issued a temporary paper license in lieu of a renewal certificate, it is acceptable only if it is accompanied by a supplemental ID. State requirements may vary, so please be sure to check your state requirement page.
If you are in the U.S. military, and the expiration of your driver's license has been extended or deferred by the issuing state, the license can be used as supplemental ID along with your U.S. Military ID. Depending on the state, the extension or deferral may consist of either a sticker affixed to the license, the designation "military" printed in place of an expiration date, or a separate document carried with the license, usually with a notation that the driver's license is valid until a specific time period after discharge from service.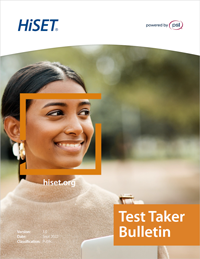 Everything test takers need to know about the HiSET.
For a complete overview of everything you need to know about the HiSET high school equivalency test and credential, download the official HiSET Test Taker Bulletin.