Accommodations for Test Takers with Disabilities or Health-Related Needs
Accommodations are available for test takers with diagnosed disabilities that include, but are not limited to:
Attention deficit/hyperactivity disorder
Psychological or psychiatric disorders
Learning and other cognitive disabilities
Physical disorders/chronic health disabilities
Intellectual disabilities
Hearing and visual impairment
Available Accommodations
Accommodations like extended time, separate rooms, large print tests, screen magnification, scribe or keyboard entry aide, additional supervised break time, and sign language-interpreted instructions for test takers who are deaf or hard of hearing are some of the most commonly approved requests.
While there are a variety of different accommodations available to test takers who meet the Americans with Disabilities Act Amendments Act (ADAAA) disability requirements, there are some accommodations that don't require the request process for approval. You can bring these items with you to the test center:
Tinted or colored transparent overlays (for paper-delivered testing only).
Scratch paper (to be collected by test center personnel at end of testing session).
Earplugs (not attached to any electronic device).
Plain, unmarked straightedge to assist with keeping place while reading. You may use a piece of scrap paper for this purpose, but it must be returned at the end of the testing session.
Handheld non-electronic magnifying device (without memory or camera).
Seat cushion/back pillow, or footstool (item will be inspected by test center personnel before and after testing).
Prescription medications (in the prescription bottle with a label indicating your name, dosage and directions).
Service animals.
Medical devices (e.g., asthma inhaler, hearing aid, pacemaker, insulin pump on vibrate or silent, oxygen tank, TENS stimulator).
Highlighter or black felt pen for essays and scratch work only.
How to Request Accommodations
You may need to document your disability before applying for accommodations. If you have questions about the documentation process, contact PSI's Test Accommodations Team at 800-367-1565 ext. 6750
Fill out the HiSET Testing Accommodations Request Form or submit a request at the link below.
Getting Approval for Accommodations Requests
Once your request has been reviewed, you will receive an email notifying you of your approval status. You must wait until your accommodations are approved before scheduling your appointment. The Accommodations Team will set up your appointments and ensure your accommodation is supported by the test center.
If you have questions, call the PSI Test Accommodations Team at 800-367-1565 ext. 6750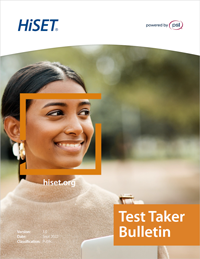 Everything test takers need to know about the HiSET.
For a complete overview of everything you need to know about the HiSET high school equivalency test and credential, download the official HiSET Test Taker Bulletin.